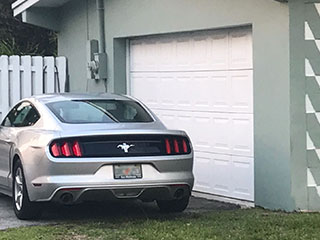 There's a relatively simple way for you to avoid a lot of potential problems with your garage door, and that's to have our experts maintain it on a regular basis. We know exactly what needs to be checked and tweaked to prevent a wide range of malfunctions.
Safety Before Anything Else
The most important thing is that neither you nor your family members are in any danger. That's why as part of our regular service appointments we will test the opener's safety sensors and make sure their alignment is correct and that they're working the way they're supposed to. Misaligned sensors can fail to detect an obstacle, which spells trouble, to say the least. We'll make sure their facing each other properly and that the door reverses when it needs to.
Checking The Hardware
As we start examining your door we'll gradually work our way from the outside to the interior components. We'll make sure the panels aren't damaged and we'll repair any minor issues we discover, then we'll proceed to the tracks and the rollers, making sure there's no issues with the movement of the door. Finally we'll check the motor unit and its circuit board, to make sure no mechanical or electrical problems are lurking about.
The Springs Play a Vital Role
These units are what allows your door to open and close without you or your opener having to support its heavy weight. Because the springs are under a lot of tension every single day, they must be checked for deformed coils and lubricated to ensure their working efficiency. We'll also adjust the spring tension if we find that the door is getting unbalanced.
Maintenance Leads To Longevity
If you make sure your system is properly cared for regularly, you'll have to spend less money on unexpected repairs and you'll be able to keep using it for a lot longer than you may initially expect. Contact our team at Garage Door Repair La Porte to schedule a maintenance appointment today.
Couldn't find what you're looking for? We also offer:

Part Replacement & Lubrication

Emergency Broken Spring Replacement

Garage Door Remote Clickers

Damaged Parts Replacement