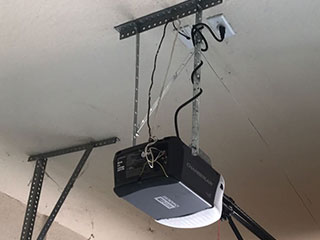 Even top of the range garage door openers need love at some point. Why wait until you're stuck in the rain to find out that your opener needs a motor replacement? By having your opener checked and maintained by our team of experienced technicians you can ensure a smooth opening every time.
Which Opener Is Right For You?
Don't be fooled by all the choice on offer, all garage door openers fall into one of three categories based on the drive system they use. Chain-drive openers are reliable and affordable. However, if noise is an issue for you, you might want to find a different type of opener. Belt-drive units are the number one choice for those who want silent functionality. They are more expensive but it's a small price to pay for peace and quiet. Screw-drive openers are perfect for those looking to reduce maintenance but can handle a little noise.
Enhance Your Security
When looking for the right door opener for you it's important to look at which additional features match your requirements. If safety is your main concern, you might want to consider the Genie or LiftMaster opener ranges, these offer a specialized security system to stop thieves hijacking your system. You may also want to consider smart options that connect to your Wi-Fi system or have battery back-up systems. Whatever your needs, always consult with an expert who can help you find the right opener for you.
Invest in Your Future – Maintain Your Door
Whatever happens out there, knowing your garage door will open when you need it to will make all the difference. Don't DIY it. When you book a maintenance check with us, you can be sure of a complete system examination. Any problems with your opener will be identified and fixed on the spot. We'll check your sensors are working and aligned properly, and also lubricate the chain drive if you have this type of opener system. Our team is dedicated to keeping your opener running for as long as possible!
Get in Touch Today
You can be sure that our experts at Garage Door Repair La Porte will be there to help if your unit fails. From installation to emergency we've got you covered. Give us a call today.
In addition, we offer:

Extension & Torsion Spring Replacement

Opener Sensor Repair & Replacement

Garage Door Tune Up Services

Overhead Garage Doors