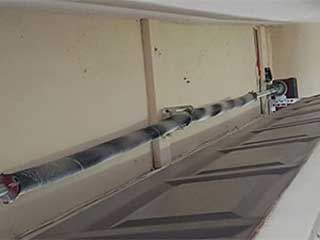 Few homeowners really appreciate how important their garage door springs are. Without these components, your system won't be able to move at all, even if it had an automatic opener. It's therefore essential to fix any spring related problem as quickly as possible. This is true not only because of the inconvenience of being unable to open your door when one of these units breaks. The breakdown itself can be extremely dangerous and can lead to serious injuries. Our expert technicians are here to help you avoid the risks.
When To Replace A Spring
Garage door springs tend not to break suddenly - they usually give signs that they're wearing out before they snap. Depending on the quality of the unit, how often your door is used, and how well it's looked after, this could happen within anywhere from between three to ten years. We strongly recommend becoming familiar with the signs of weakening springs, so you can quickly identify a problem as soon as it arises.
Identifying A Potential Problem
When a spring begins to wear out it grows weaker and weaker. This often becomes evident because your door squeals or shakes as it moves, or if it starts to sag and won't go all the way up. A good way to test the strength of your springs and the balance of your door is to open it halfway and seeing if it stays in place (this is after you disconnected it from the opener, of course). If the spring tension is weak, the door will drop noticeably. If this happens, contact our technicians to have the proper adjustment made.
When Replacement Is Due
We strongly recommend that you don't try and replace a worn or broken spring on your own, as this can be extremely dangerous. Instead, our technicians will safely secure your door before disconnecting the damaged component. We'll then fit the new spring in its place, thoroughly checking the balance and tension before testing the system in operation to make sure the door is safe to use once again.
Don't Wait To Contact Us
We're always ready to help when you need help with your springs. Get in contact with our team at Garage Door Repair La Porte today and let us safely handle these dangerous units for you.
Looking for more? We also offer:

LiftMaster Chain Drive Lubrication

Galvanized Torsion Spring Installation

Genie Garage Door Opener Services

Roll up Garage Door Maintenance